About Me
I am extremely proud of my Caribbean heritage and every day take inspiration from my greatest role model – my mother.
Raising children with such dignity and honour after having lost my father to illness at a young age, she faced challenges shoulder to shoulder with others in the generation that came to rebuild Britain. They worked tirelessly to ensure that their children had the opportunity of a secure future.

For over twenty years I've worked at the heart of our community, with a strong background in community organising. Having worked with Citizens UK, Croydon Assembly, Labour Against Racism and Fascism amongst others and being a member of Unite, Unison and Coop, I have stood with trade union members to fight for a fairer and more democratic society.
Why I am standing for city hall
I want to bring my grassroots community organising and campaigning experience to fight for a better life for Londoners. We want and need better and cheaper housing and transport, a greener and cleaner environment and we need to work hard to keep our young people safe on our streets. With a newly elected Conservative Government, we know things are going to be tough for some of our most vulnerable citizens, so we must make sure that City Hall stands up for all our communities and digs in hard against damaging cuts.
As a Croydon councillor, community organiser and former chair of Croydon North Constituency Labour Party, I have a proven track record of delivering for our diverse communities. From my work standing up for the Windrush generation, to supporting the fight to save St Helier hospital, I have worked tirelessly to address the injustices people are suffering. I'm an experienced activist and campaigner, supporting members in every election over the years in Croydon, Sutton and the rest of the country.
Now, I want to take my radical agenda to City Hall.
Supporting Patsy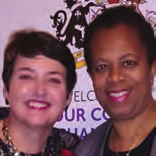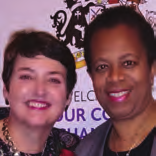 "Transport links are vital for the prosperity of our outer London boroughs."
Val Shawcross, Former Deputy Mayor for Transport
The extension of the tram, an increase and expansion to bus routes, improved rail services, more walking, cycling and car free areas around schools is what constituents have said they want. With her experience of working with the local authority to implement change, Patsy will be a great advocate and voice for Croydon & Sutton in City Hall.
---
"We need Patsy in City Hall! She stands up for justice and for equality."
Syed Abidi, Local Resident and human rights activist
She works tirelessly for all members of society who need her help, most recently the Windrush Generation who have been treated so badly by this government.
---
"Patsy works for and champions real Labour values and I know she will represent us well in
City Hall."
Karon Whitham, Sutton & Cheam Activist
Patsy has campaigned with us in by-elections and against the closure
of St Helier Hospital. She has, with her commitment, proven to be with us for the long haul.